World Obesity Day 2020 -The Roots of Obesity Run Deep
2020-04-09
Together we can create a healthier future.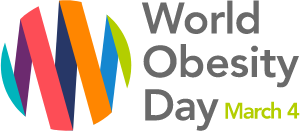 People with obesity are constantly shamed and blamed for their disease. This is because many people – including doctors, policymakers, and others – do not understand that obesity is a chronic disease. They see it as a simple lack of willpower, laziness, or a refusal to "eat less and move more". But like all chronic diseases, the root causes of obesity run much deeper. They can be genetic, psychological, sociocultural, economic, and environmental. It is time we break the cycle of shame and blame and reevaluate our approach for addressing this complex, chronic disease that affects 650 million people worldwide.
Join us and organizations around the world for a new World Obesity Day on March 4, 2020, as we push for more comprehensive solutions, treatment, and collective responsibility for addressing this global epidemic. Together, we can address the far-reaching personal, societal, and economic impacts of obesity. See how you can be a force for change at
www.worldobesityday.org
.