Nutrition Month Malaysia 2016
2016-10-12
The annual Nutrition Month Malaysia is back for the 15th time, bringing you the all-new exciting "Food-Fit-Fun Fair" event at 1 Utama Shopping Centre (Ground Floor Centre Court) this April 6-10, 2016! Engage with nutritionists, dietitians and physical activity experts to learn more about smart ways to eat healthily and get fit.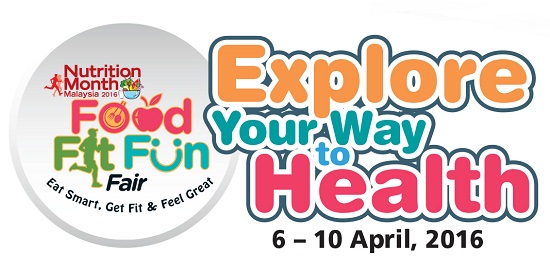 You and your family can also participate in FREE and FUN activities such as group zumba, food sampling, cholesterol check and much more.


The bonus is you will have the opportunity to meet Masterchef Malaysia Allstars winner Arshad Zamir (Sunday, 10 April) as he fires up the kitchen on stage with his amazing cooking skills and tantalising recipes!


You will certainly feel great after visiting the Fair! So, mark the date on your calendar and bring your family to join us from 10.00 am onwards! For more information, call 03-5632 3301, drop by the Nutrition Month Malaysia Facebook page or visit www.nutritionmonthmalaysia.org.my.


The Nutrition Month Malaysia programme, is a joint initiative by the Nutrition Society of Malaysia, the Malaysian Dietitians' Association & the Malaysian Association of the Study of Obesity. The 2016 programme is supported by corporate Sponsors: Nestle, Vitagen, Yakult, EcoBrown, Gardenia, Dutch Lady.


Come learn about nutrition the fun way at our FOOD-FIT-FUN Fair, the biggest nutrition event of the year.


Nutrition Month Malaysia Secretariat

Download brochure here!