Preface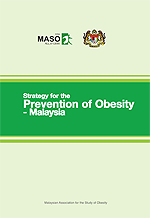 Given the magnitude and complexity of the problem of obesity and its prevention, intersectoral collaboration and integration are crucial to the successful development and implementation of obesity prevention programmes. There is an urgent need to enhance the professional understanding of prevention principles and practices; to involve all relevant partners at national and local level to develop supportive public policies and create appropriate health promoting environments.

This document initiated by the Malaysian Association for the Study of Obesity (MASO) in collaboration with the Ministry of Health Malaysia, describes recommendations to help prevent normal weight individuals from becoming overweight or obese.

Members of the Technical Committee include representatives from Malaysian Association for the Study of Obesity, Ministry of Health Malaysia, Nutrition Society of Malaysia, Malaysian Dietitians' Association, Universiti Kebangsaan Malaysia and Specialist Teachers Training College. The Technical Committee will have continuing responsibility for the review and updating this document to be conducted once in every five years.

This document contains information on definition and classification of obesity, prevalence and trends, health consequences and economic cost. Factors that contribute to obesity and their prevention strategies as well as recommendations for future research are also discussed.

This document developed through a Consensus Workshop is useful for the healthcare providers, other related professionals as well as educators to help them educate specific target groups, particularly families and communities, schools, healthcare system, media and workplaces.

The information in this document is not only useful but timely in sensitizing stake-holders and policy makers on the importance of preventing obesity and most importantly, sufficient leadership be trained at national and local levels to assure that these preventive actions produce the desired goal of "Healthy Weight for All Malaysians".

I wish to thank the members of the Technical Committee for their effort and perseverance and all the participants of the Consensus Workshop for their contribution to the successful completion of this document.



PROFESSOR DR. MOHD ISMAIL NOOR
Chairman, Technical Committee
Strategy for the Prevention of Obesity Malaysia (SPOM)

5 December 2005

---------------------------------------------------------------------------